There are a wide variety of barbecues available to choose from today, ranging in price from a few hundred dollars all the way up to the same price as a mid-sized sedan (crazy, but true). So how do you choose the right one? Reviews are definitely a huge help, but always take reviews with a grain of salt – the good and the bad, we all treat our barbecues very differently.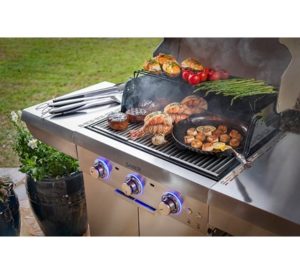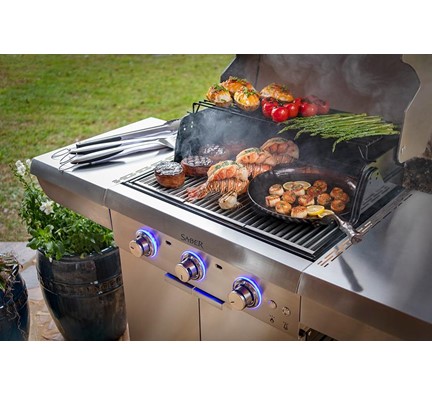 We always recommend asking the experts. We carry a ton of different barbecues and have cooked on almost all of them. We'll give you our honest opinions and what makes one stand out above all the rest.
We have been cooking on a Saber grill at home for quite a few years now. Let me tell you, we've put this barbecue through its paces. From a quick, casual burgers and hot dogs kind of dinner – all the way over to a beautifully seared steak. Every time this barbecue has performed fantastically. It cooks evenly and there is little to no clean up.
Patented Cooking System
So, what makes this barbecue so good? Many things, but probably one of the most important is the virtual elimination of flare-ups. Saber has designed this patented infrared cooking system that uses a closed grill system so the cooking grills can get incredibly hot. This allows you to create those mouth-watering sear marks, while also putting a barrier between your food and the open flame.
This system also adds a layer of safety to your cooking. By keeping juices and grease away from the flames, you also drastically reduce (and almost eliminate completely) the possibility of a grease fire. These grills also feature an easy to remove grease tray that covers the entire bottom of the grill for even easier cleaning
The Saber grills are also built to last. Whether you choose the fully 304 grade stainless steel Elite model, or the Black Cast model you'll be getting an incredibly sturdy and well-built barbecue.
Saber Select Models
At Safe Home Fireplace, our favourite model has got to be the Select 3-Burner model. New to the Saber lineup, this model packs in a ton of features all for under $1000. This model features three burners and 500 sq. in. of cooking space. Accent lighting around the control knobs provides some additional style and will definitely ensure this barbecue makes a statement in your backyard.