The fireplace is the perfect focal point for any room. Whether it's a new gas appliance or an existing chimney-and-mantelpiece, nothing's cozier than a space with a fireplace. The best part is, with new gas and electric options, no room is off-limits. How can you decorate the room around it? Here are some ideas to consider when setting up your fireplace!
What Style Of Fireplace Do You Have?
First thing's first – what style of fireplace do you have or want to install? Is it a linear, multi-sided, or traditional gas fireplace, or do you have a wood stove? Linear fireplaces bring a fresh, bold, modern look, traditional models have that old-school hearth look, and multi-sided models combine the two. Luckily, there's an option for every taste and existing decor scheme!
No matter what kind of fireplace you choose, you can use it to create a unique focal point that's just your style. Once you've made your choice, it's a matter of picking a solid material to surround it.
The Material Around Your Fireplace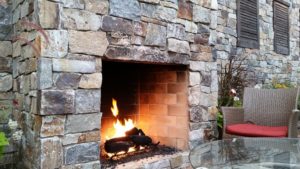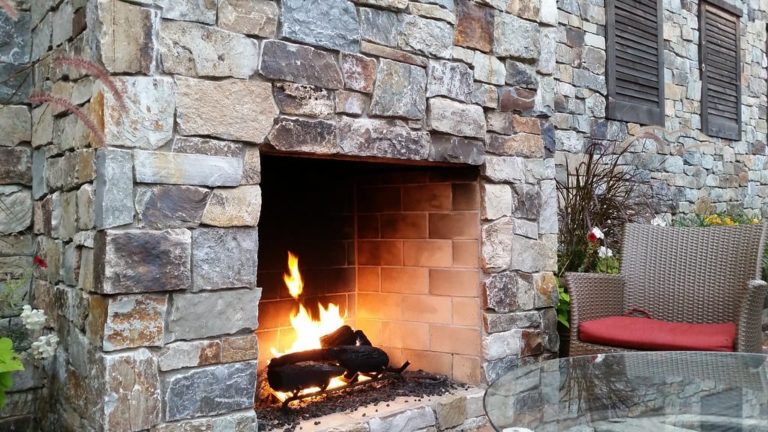 Often, the best way to bring out your fireplace is by choosing the best material to surround it. Some ideas include: 
Reclaimed wood and barn board can create a modern rustic look.

Exposed brick brings texture and colour, and can also make a space look "reclaimed."

Steel gives a modern, industrial feel to a room.

Concrete, with clean lines and a natural finish, gives off a contemporary aesthetic, and it can even help warm up a room by retaining the heat thrown off by the fire.

Natural stone has a wide range of finishes and colours – and can also retain heat.
When selecting a material to surround your fireplace, think about the overall aesthetic of your room. While the fireplace will be the focal point, the material around it will be the biggest section – try to choose something that works with your existing paint, wallpaper, or accents. 
One type of fireplace, called the insert fireplace, can use an existing hearth and chimney, meaning you don't have to tear it out of the room. It also lets you make good aesthetic usage of the mantle, one of the best spots to get creative.
On And Above – Using The Empty Space Above Your Fireplace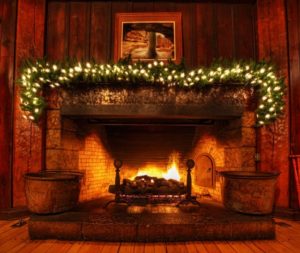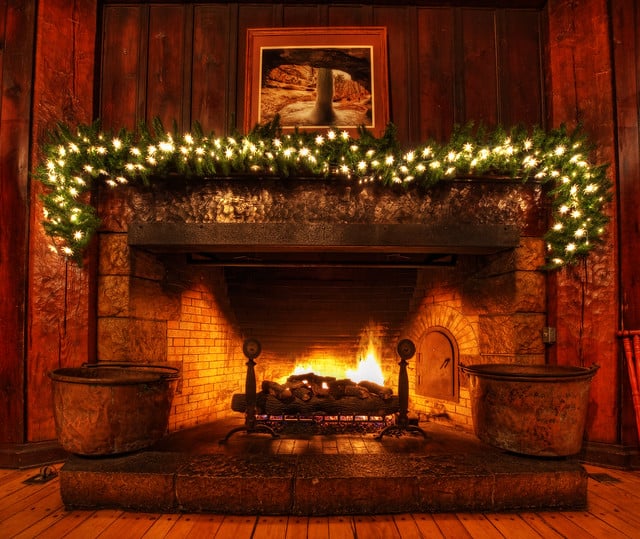 In most rooms – and even when the flames aren't burning – the eye is drawn to the fireplace. You want to make good use of the space directly above it. It's a regular place for family portraits, hunting trophies, flatscreen TVs, books, mirrors, and holiday decor, so how can you make it unique?
Local art is always a good choice, and it's a fun way to add a little personal flavour above your fireplace. Choose a piece whose dominant colours match the palette of your room. 

Another excellent idea – and one that works well with distressed-looking materials like barn board and brick – is a chalkboard. It creates a reusable surface on which you and your family can express themselves! 

One final creative idea is an old wooden window pane. Paint it and dress it up with material like ribbon or a wreath to add the look of a rustic farmhouse, making your room extra cozy!
Gas Fireplaces Can Seamlessly Work In Existing Fireplaces
Not everyone with a fireplace still uses this old-fashioned spot; the cleaning, fuel, and efficient central heating all make this part of the home pretty obsolete. However, you can bring it back with something we mentioned above – the insert fireplace. You can have a gas insert fireplace installed seamlessly into an existing hearth, and no one will know that it's an artificial flame!