Anyone else got the spring cleaning bug? Time to open up all the windows, let some fresh air in the house and dust off all the winter blahs.

Unless you're an avid griller, your barbecue has probably been getting very little use over the past few months. Now is the perfect time to take that spring cleaning attitude and get your barbecue back up and running in tip top shape.

Most of these tips and tricks can be applied to any type of barbecue. We just happen to have a Napoleon Prestige P500RSIB as our showroom demo model, and it is desperately in need of some spring cleaning.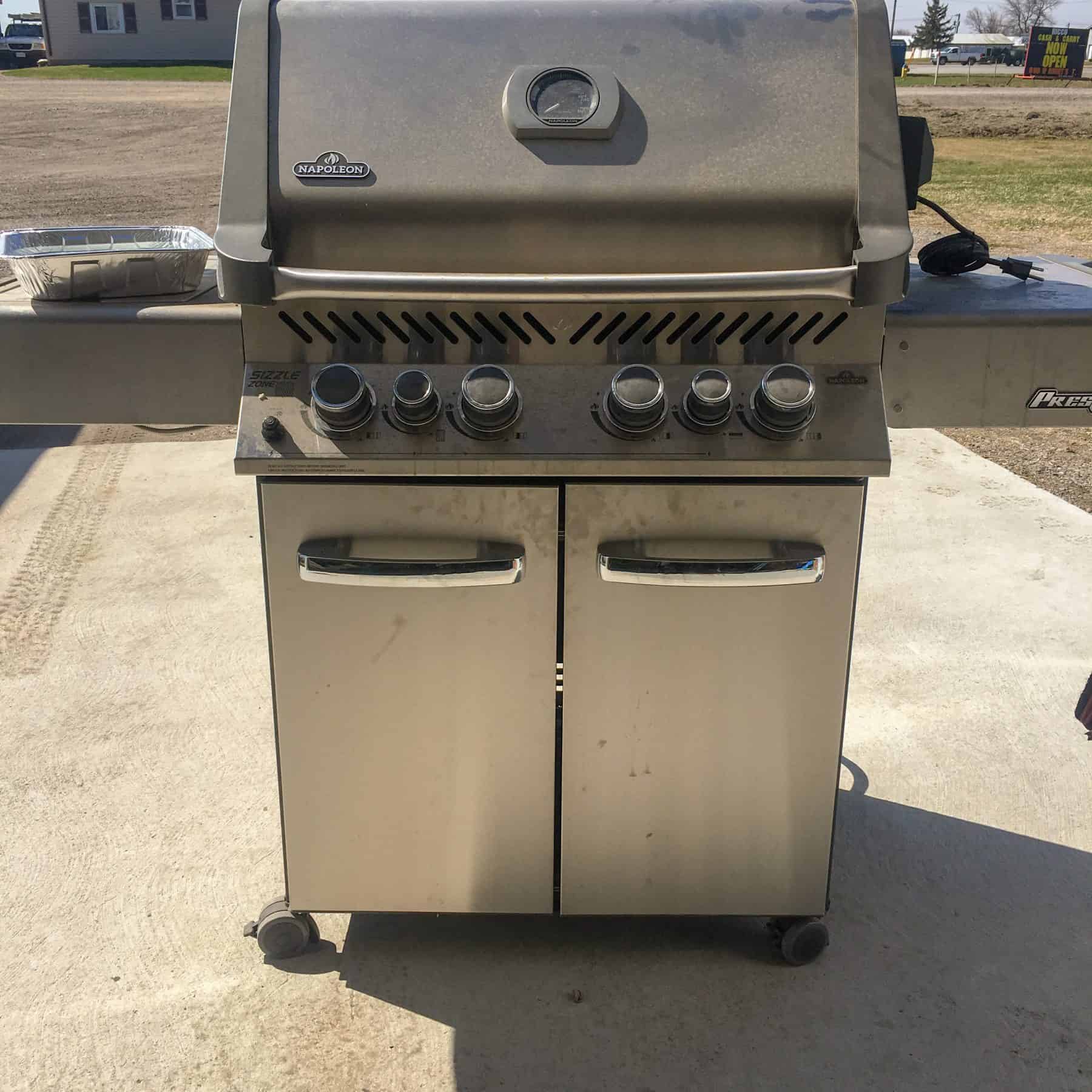 Tools We Used
You can use whatever tools you have on hand, this is just a short list of the tools we used to give our demo Napoleon barbecue it's spring tune-up.
Heavy-duty degreaser – some dish soap will work in a pinch, you'll just need a bit more elbow grease
Bucket of warm water
A roll of papertowel (some microfiber cloths are also a great idea!)
Stiff-bristled brush
Step One: Cooking Grills & Sear Plates
The insides of your barbecue are going to be the things that show the most wear (and the most grime), so best to tackle the biggest part first.

It's okay if your cooking grills have some grease on them, it keeps them seasoned and helps give them a non-stick quality. Just give them a good brush with your stiff-bristled brush and set them aside.
Insert photo of cooking grills here
Sear plates. Heat deflectors. Flavour waves. These little plates have a million different names (Napoleon calls them sear plates), but always the same function – keep the grease off the burners. This helps reduce flare-ups and keeps your burners safe from potential grease fires.

These guys will need some cleaning and might be some of the dirtiest parts on your grill. They're just stainless steel (or porcelain-coated steel) and they can be cleaned easily. Spray them with your degreaser and let things break down a bit. After that, clean them up with your microfiber cloth and some warm water. They don't have to be spotless, you just want to get most of the grease off them.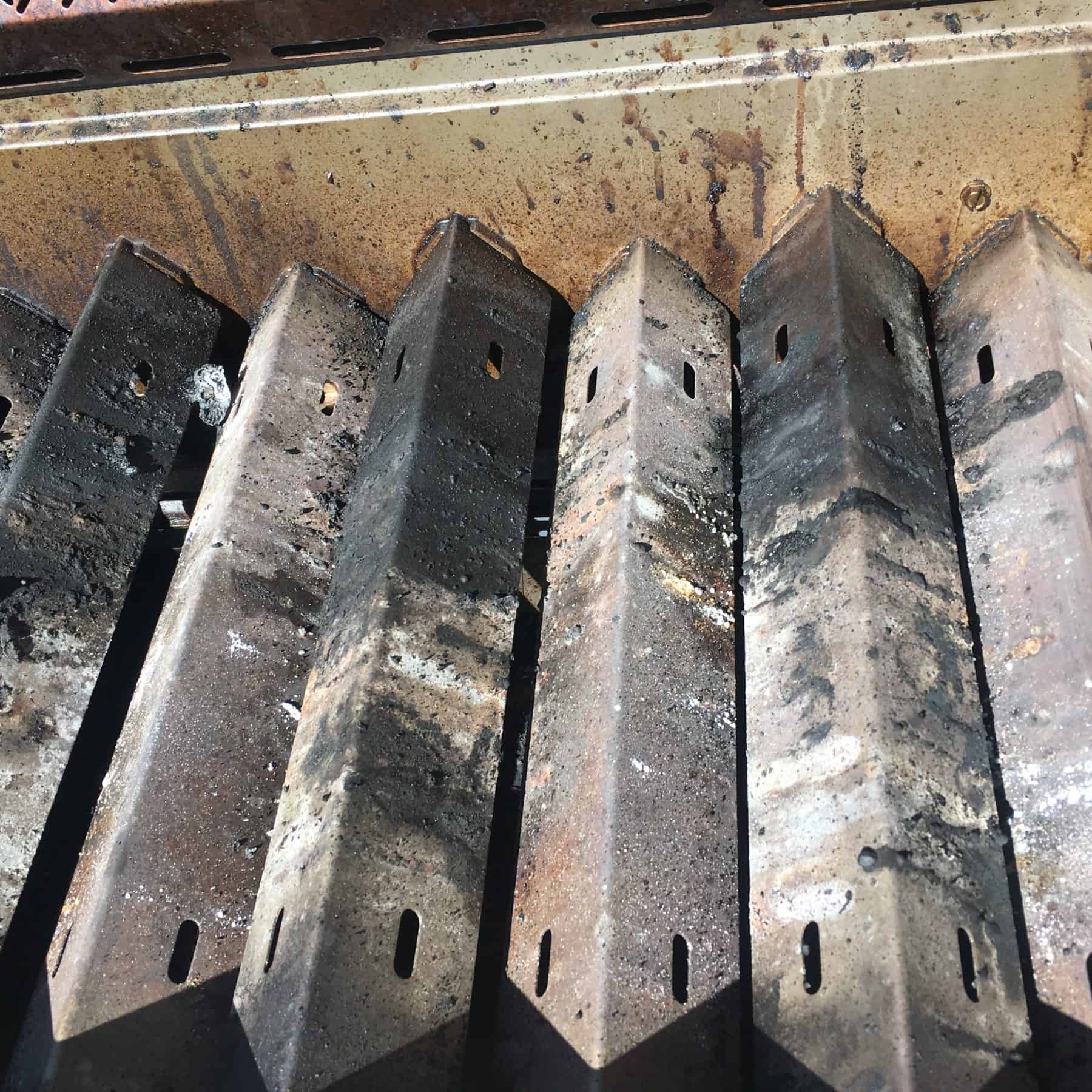 The most important thing to look for on the cooking grills and sear plates are signs of wear like rust. When pieces start breaking off the sear plates, it's time to look for some new ones. Stainless steel cooking grills won't rust, but cast iron ones will. Once you see some rust on your cooking grills, you can try to lightly scrub it off and re-season your grills – but if it won't come off, you might be better off to replace your cooking grills.
Step Three: Burners
The burners are another super important part of your barbecue. Without clean, in-tact burners you would either have no flame at all – or way too much!

Take that stiff-bristled brush and make quick strokes along the sides of the burners with the ports. This should loosen up most of the carbon that has been blocking the burners. If there's still anything left after that, use something like a metal paperclip to poke through each of the holes. Don't use a wooden toothpick! It can get stuck in the ports and you'll be left with an even bigger mess.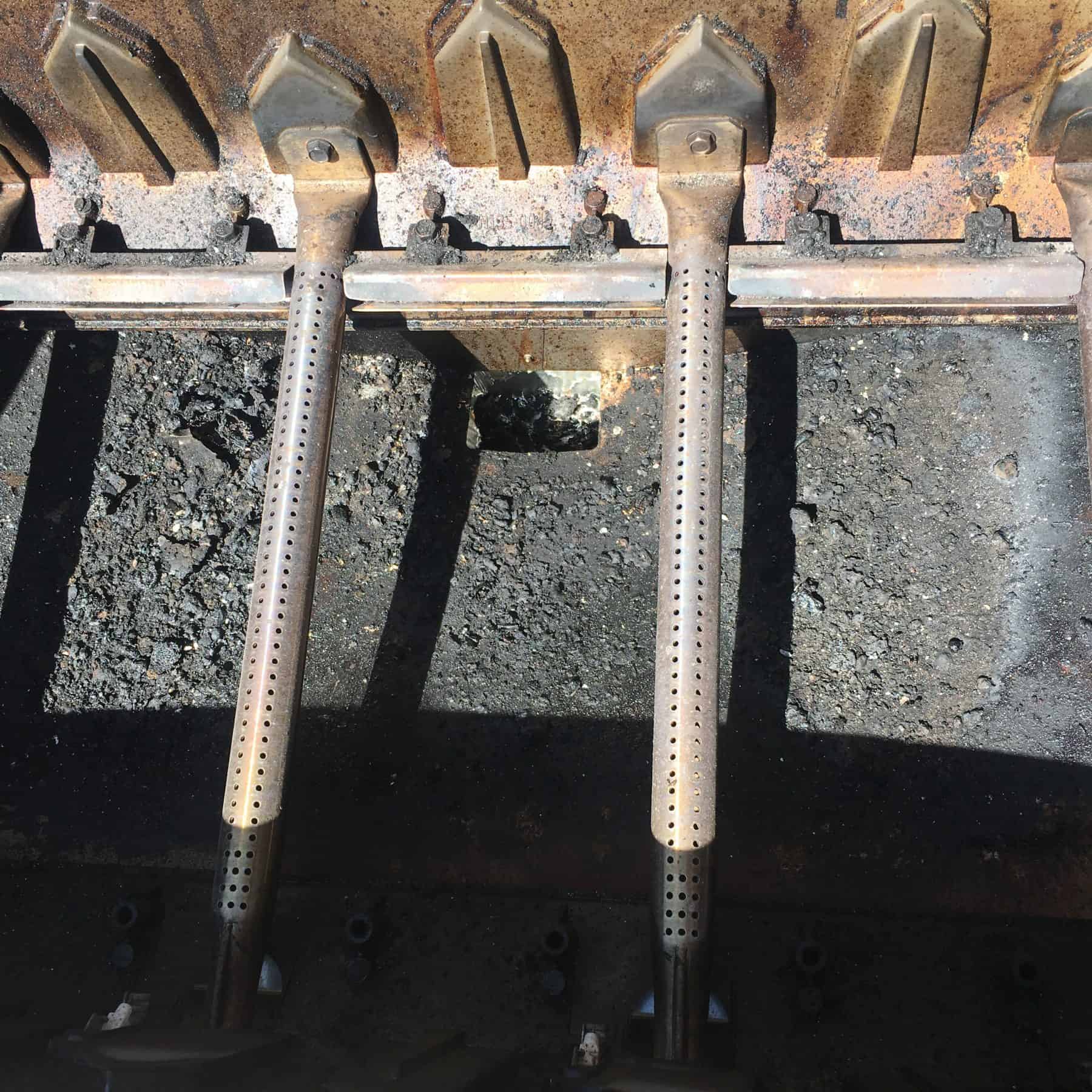 Step Four: The Cook Box
The cook box is essentially the vessel for all these parts. It holds the barbecue together and keeps it from dumping a mess all over your deck whenever you cook.

There's two ways you can clean this part. You can manually scoop out all the carbon and stuff in the bottom, or you can grab your Shop-Vac and just suck it all up. Obviously, the latter will make quick work of it, but not all of us have a Shop-Vac kicking around the house.

Get out as much of the build-up in the bottom as you can. Remember, you're not going to get things as clean as the day you brought your grill home. You're not supposed to! Barbecues need to be seasoned and deserve to be loved – a well-loved barbecue will never look brand new.
Step Five: Puttin' It All Back Together
That's it, you're done with the inside of the grill! Put everything back the way you found it and you're ready to move on to the outside!
Step Six: Grease Tray
If you take nothing else away from this, take this – ALWAYS remember to clean your grease tray. This is where grease fires start, and it's always the place people forget.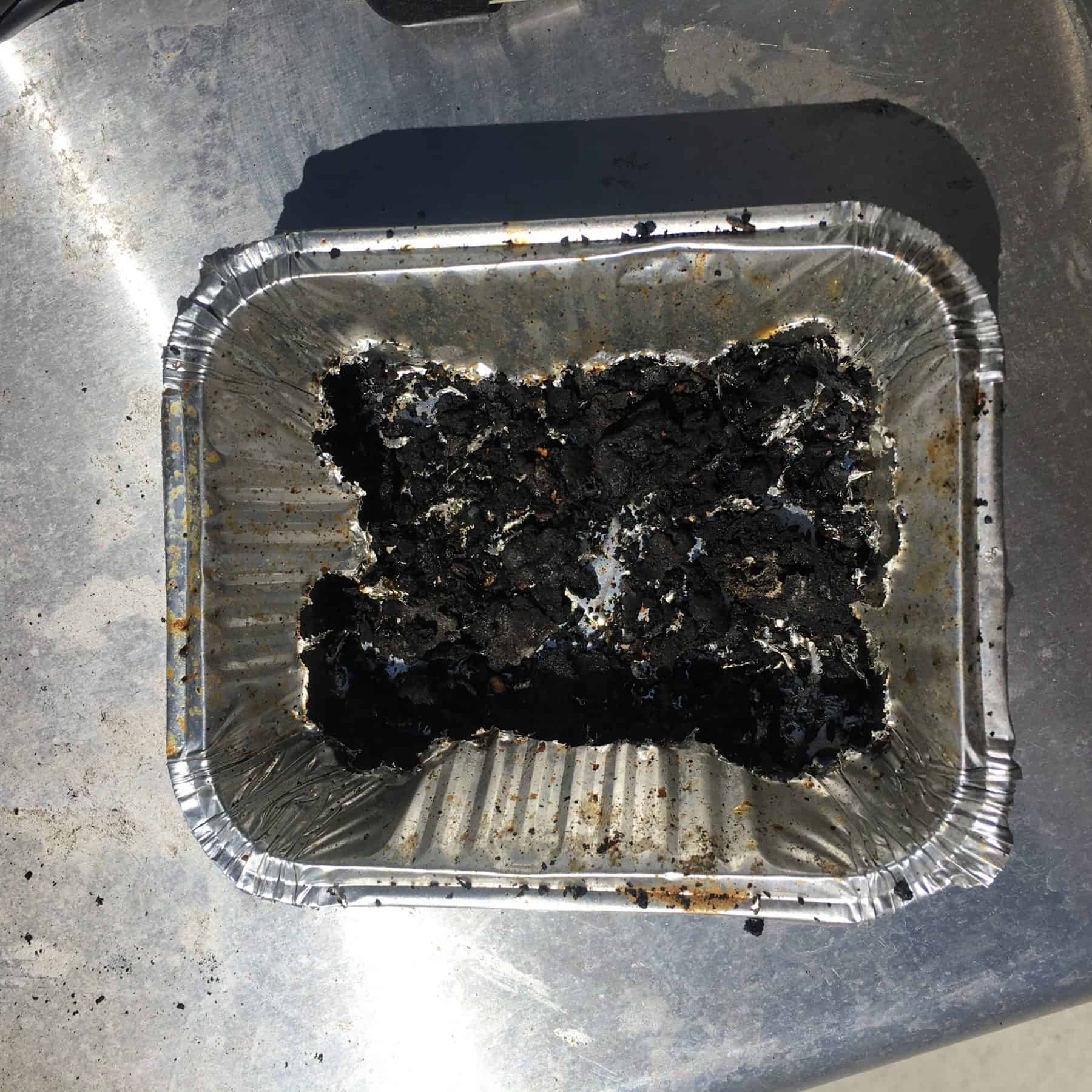 There are two parts to your grease tray: the tray that funnels everything, and the cup that catches it all. Both should be cleaned regularly, but it all depends on how much you use your grill and what kinds of things you're cooking.

First empty the cup. You can usually get to it by opening the doors to the cart and looking to the back. Luckily nowadays, most of these grease cups are just little foil pans in a steel holder. You can either rinse the foil pan and put it back if it's still in good shape, or toss it out and put a new one in there.

The grease tray is also usually accessed from the cart and will typically slide out the front or the back of the grill. Slide it out and gently scrape out anything that's in there with your microfiber cloth. Spray some degreaser on it, let it sit and then keep cleaning with your cloth and warm water. Again, it doesn't have to be perfect you just want it to be safe.
Step Seven: Shine it Up!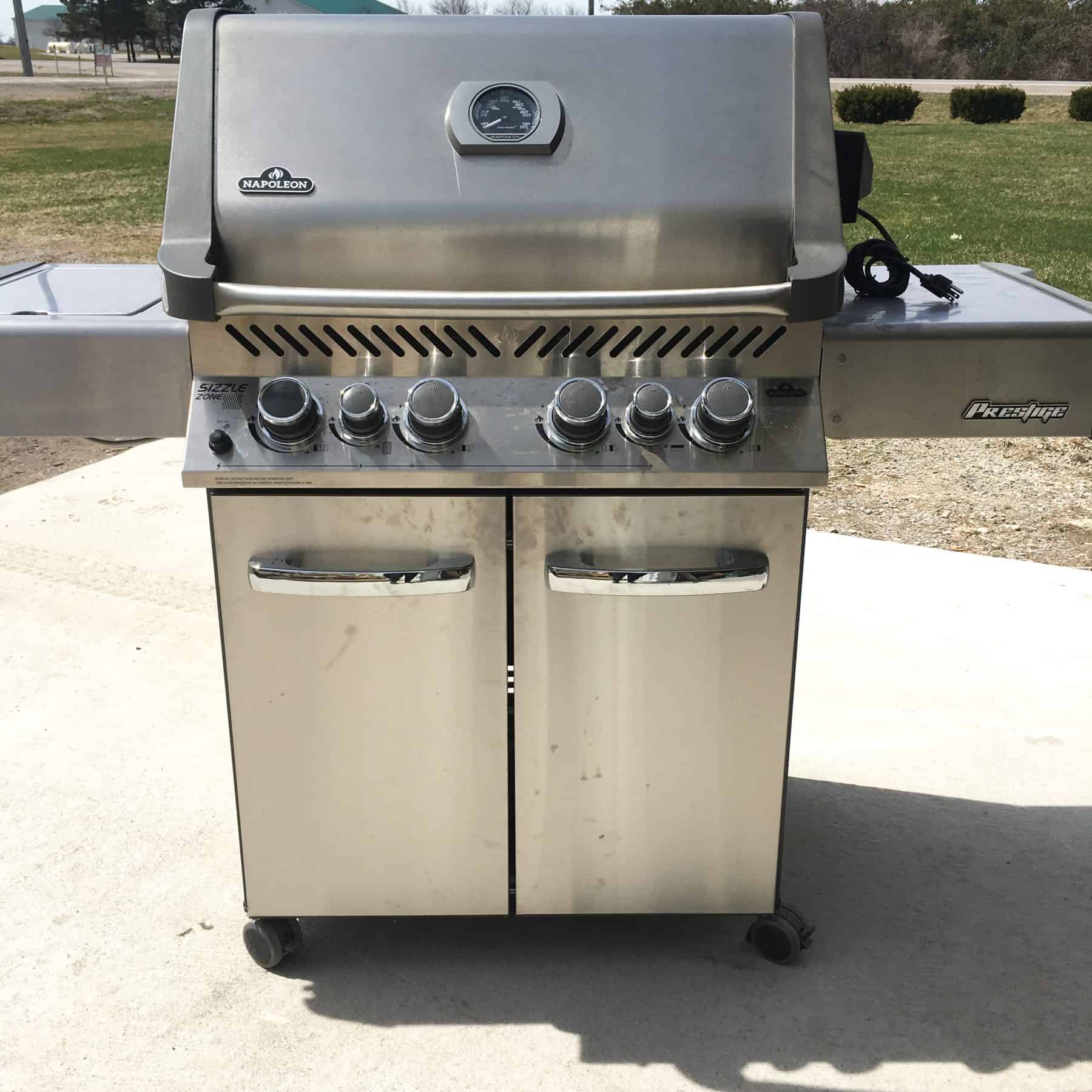 That's it! You've tackled all the hard parts. All that's left is to take a microfiber cloth – best to grab a new one for this job, and just wipe everything down. Once you get all the winter dust off, you're done!

Remember, it's never going to look brand new – and it shouldn't! A shiny, gleaming barbecue in your backyard is not getting enough use! As long as everything is clean and dust free, you're ready to quit cleaning and get back to grilling!